Understanding The TransType Interface
Part Three
To find out more about TransType and where to get it, click here
7. You can access the destination font properties by clicking the drop-down arrow next to a selected font.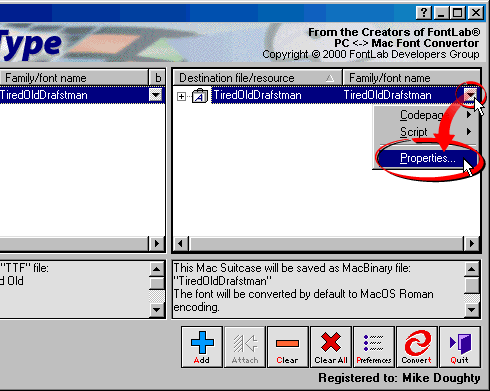 8. In the following dialog you can customize the Mac® suitcase generated in the conversion. Here you can combine fonts into a single family and make adjustments to the font's menu name. This is one of the important points about font conversion (more here). You can set the style for each font in the family suitcase to bold, italic, underlined, outlined, shadow, condensed or emphasized.
You also can access the advanced properties for Mac suitcases by clicking the twirl-down (circled below).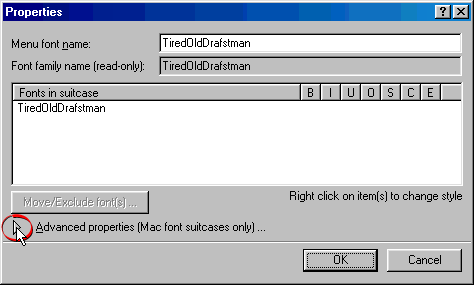 9. Shown below are the advanced properties dialog for Mac suitcases. Click the "Move/Exclude font(s)" button to move or exclude a font from the Mac suitcase of the converted font.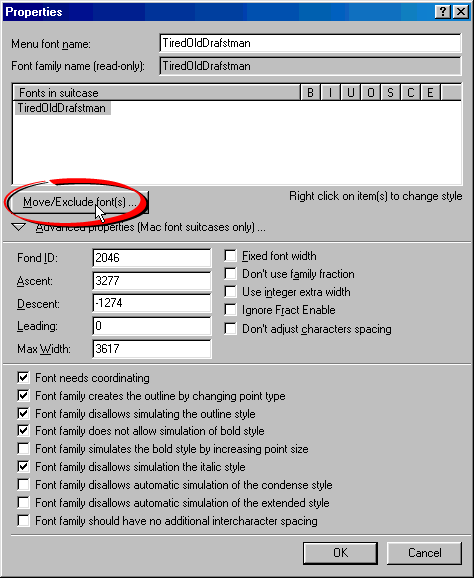 10. When you click the "Move/Exclude font(s)" button you access a window where you can move a font to another suitcase or create a new suitcase. This becomes important when organizing fonts into families (more here).