Font Basics - Part Two
Font Suitcases on The Mac®

On the Macintosh®, Type 1 screen fonts and TrueType® fonts exist in suitcases. A suitcase is a special kind of folder made especially for fonts. A suitcase can contain a mix of Type 1 and TrueType fonts. The following icon shows what a suitcase looks like.

Following is a screen shot of an open suitcase containing several screen fonts having different bitmap sizes of Type 1 Helvetica Narrow. Each screen font contains character bitmaps all having the same point size. In the example below, there are bitmaps for 10, 12, 14, 18 and 24 points. Although there may be several screen fonts for a single printer font, only one is required.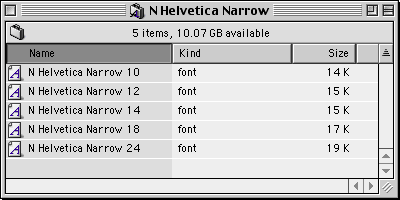 Shown below is a screen shot of a suitcase containing a family of TrueType fonts. A font "family" is a collection of fonts of the same typeface having different weights or varying characteristics (such as italic, oblique or bold).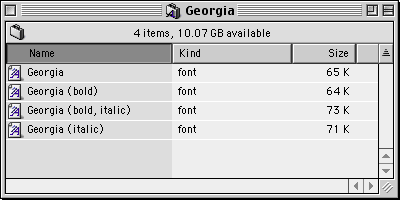 It is important to note that with Macintosh fonts, you will see many different icons. For example, Adobe® printer fonts have a unique icon with a red "A":

In order to make sure you move all the printer fonts and screen fonts together, you have to recognize how they are paired. For example, the following folder contains all the printer and screen fonts for Adobe Garamond. There are six printer font files and a single suitcase containing all the screen fonts for the entire family.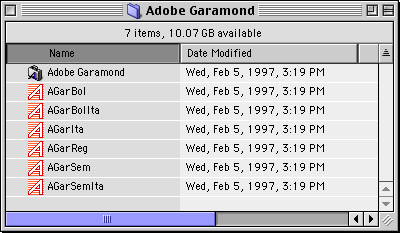 When you open the suitcase you can see that there are thirty screen fonts with five point sizes for each printer font.