Porting Fonts Across Platforms:
Number 19A
Porting PC Type 1 Fonts To The Mac® With Mac FontLab®
To find out more about FontLab and where to get it, click here
Click here for legal note on fictitious font name used in this tutorial
1. In this case we will convert the Type 1 font, PhatKat. The font is comprised of two files (more here on why Type 1 fonts require two files). There is a .PFB file which contains the outlines and a .PFM file which contains the metrics. Copy these files to the Macintosh® computer either by using a PC-formatted disk or by sending it over a network (more here on copying files between Mac and PC).

2. Press the

button on the Standard Toolbar or click File > Open... to open the font. Navigate to the .PFB file (containing the font outlines) and open the file.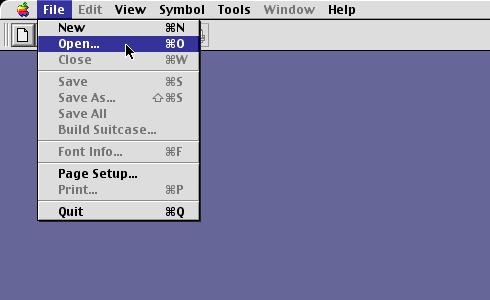 3. You will see a view of the individual characters in the font window. The default encoding for imported fonts is "Imported". We need to change the encoding.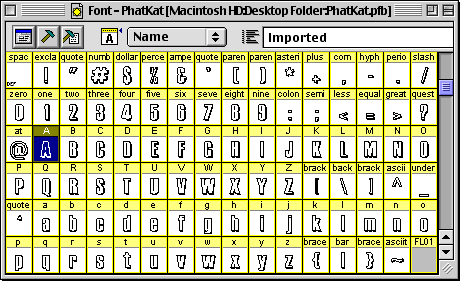 4. Select the encoding options from the toolbar on the font window. In FontLab there are two encoding modes - Names encoding mode and Unicode encoding mode. We want to put FontLab into Names encoding mode because the converted font will be PostScript® Type 1. The Unicode encoding mode button must be retracted to be in names encoding mode (shown below). We also want to select Macintosh encoding from the drop-down list of available encoding tables. Perform the following steps shown in the diagram below. For a more complete explanation of encoding and why it is important, click here.