Porting Fonts Across Platforms:
Number 20A
Porting Mac® Type 1 Fonts To The PC With Mac FontLab®
To find out more about FontLab and where to get it, click here
Click here for legal note on fictitious font name used in this tutorial
1. In this case we will convert the Type 1 font, Dudley Squat.

2. Press the

button on the Standard Toolbar or click File > Open... to open the font.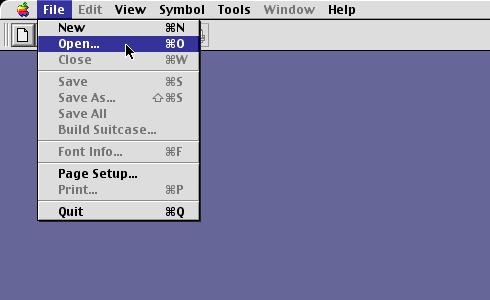 3. Navigate to the folder containing the font files. FontLab lets you open either the printer font (containing the outlines) or the suitcase (containing the screen fonts). We want to import the font metrics (kerning, and other metrics data) when we import the font (more here on why this is important and why you have to take the necessary steps to include the metrics in the conversion). In Mac Type 1 fonts, the kerning and other metrics is in the suitcase with the screen fonts. In FontLab, if you open the Mac printer font you will have to manually import the metrics. (click here on how to manually import metrics using FontLab). But you can import the font outlines and the metrics in one step if you open the suitcase. Just to make a point, select the printer font and click "Open". The printer font is the icon that looks like a printer (more here on how to recognize Mac Type 1 fonts).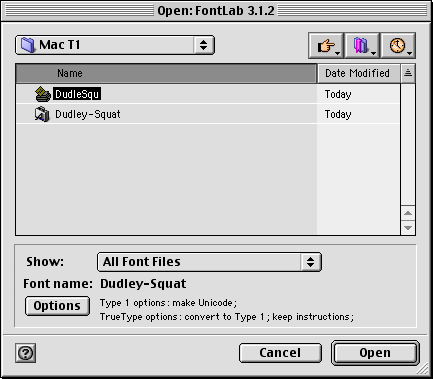 4. You will see a view of the individual characters in the font window. Ignore the encoding for now.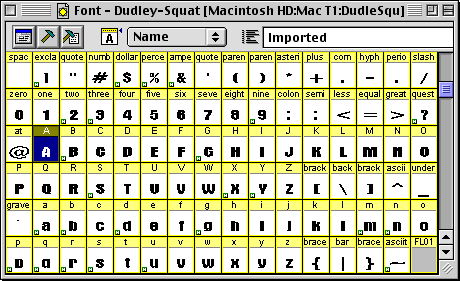 5. Click Window > New Metrics Window.