Porting Fonts Across Platforms:
Number 7B
Porting PC Type 1 Fonts To The Mac® With PC TransType
Click here for more on working with TransType
Click here for legal note on fictitious font name used in this tutorial
4. The output specifications in the legend panel under the destination list show that the Mac suitcase name is right and that the destination encoding is right (Mac OS Roman). The importance of getting the right encoding is mentioned here, and the importance of getting the right menu name is mentioned here. To find out more about how to customize Mac suitcases in TransType, click here. To find out more on selecting destination encoding, click here.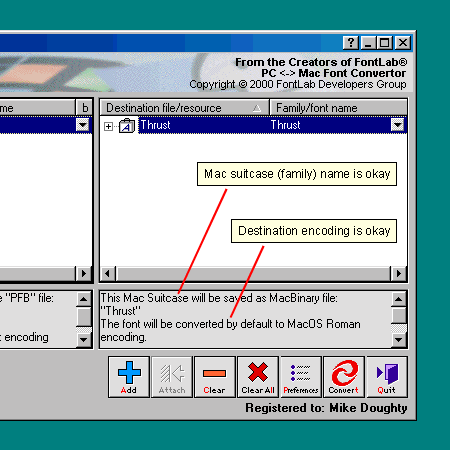 5. Click the "Convert" button to convert the font.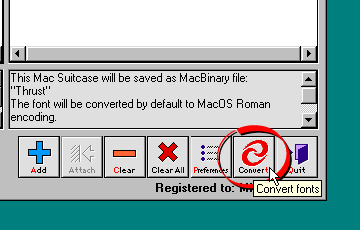 6. TransType will display a window asking you where to output the converted font. Select the destination folder and click "OK".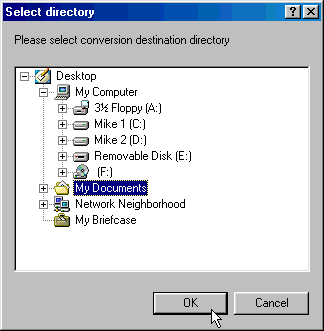 7 In this case we setup the preferences to output Mac files in MacBinary format (more here on setting up TransType preferences). TransType will create two MacBinary files. (more here on the MacBinary format). Copy these files to the Macintosh® computer either by using a PC-formatted disk or by sending them over a network (more here on copying files between Mac and PC).

8. Next, you need to decode the MacBinary files on the Macintosh. This step expands each font file into the necessary resource fork required by the Mac (more here on the Mac file system). In this case we are using MacBinary II+ (freeware...more details found here). Once the files are restored, you can install the font by copying them to the Fonts folder in the Macintosh System folder.