Vectorize a Logo From an Image
14. Here you can see the result of the first removal of orange color. There are hints of it left as light colored edges ... we will go after these in the next round of color selection. This is a gradual process. It's too much to try to get it all at once, so you have to approach it a little at a time to avoid losing some of the pixels in the areas we are trying to preserve.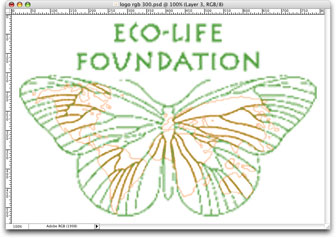 15. Next, make sure Layer 3 is still selected, then click Select > Color Range to bring up the Color Range selection dialog again. Below is another QuickTime® movie that demonstrates additional technique to accurately select only the pixels you want. In this round of color selection, we want to use less "Fuzziness" to keep from selecting the areas where the green color mixes with the orange color. Use the various selection previews by choosing them from the Selection Preview drop-down menu at the bottom of the dialog. This will help visualize what is being selected.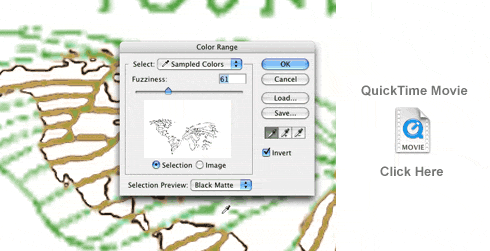 16. Below is a close up of the selected pixels.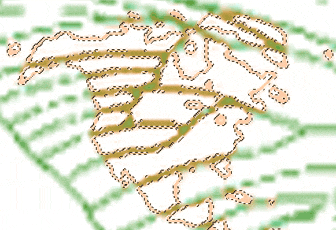 17. Just as we did in a previous step, we want to copy the selection, then paste it as a new layer. Simply click Ctrl + C (Windows®) or Cmd + C (Macintosh®), followed by Ctrl + V (Windows) or Cmd + V (Macintosh). Again, note the new layer in the Layers Palette. It is "Layer 4".