Vectorize a Logo From an Image
10. The image will enlarge and new pixels will be created to "fill in" the areas added in the upsampling process.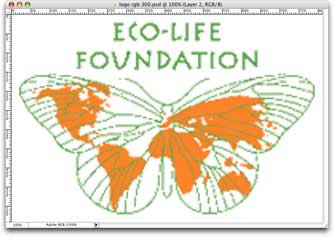 | | | |
| --- | --- | --- |
| | | Note: Photoshop® will allow you to upsample an indexed color image, but please bear in mind that an indexed color image has a maximum of 256 colors while a true color RGB image has over 16 million colors. When you upsample a true color RGB image there will be more intermediate colors to fill in the areas of new pixels than with indexed color. In this tutorial we need the extra colors to provide better lines to trace with Adobe® Streamline® (the tracing program). |

11. The next step is to separate the colors of the logo. First we will strip out all the orange color to leave only the green color. We will use the Color Range Selection Tool in Photoshop® to accomplish this because it is very interactive and we can cut away the orange in chunks a little at a time. Start by selecting the layer that contains the artwork (not the white layer). Click Select > Color Range. Below is a QuickTime® movie showing you how to do this step. (If you don't have the free QuickTime® player installed, you can download it from Apple® here). Play the movie by clicking the start arrow in the control bar.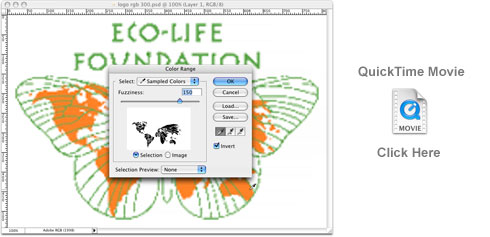 12. When you exit the Color Range dialog after making your selection, you will see the familiar "marching ants" pattern of the selection marquee. Next, we want to copy the selection, then paste it as a new layer. Simply click Ctrl + C (Windows®) or Cmd + C (Macintosh®), followed by Ctrl + V (Windows) or Cmd + V (Macintosh).
In the previous step, we inverted the selection. This will copy everything except the orange.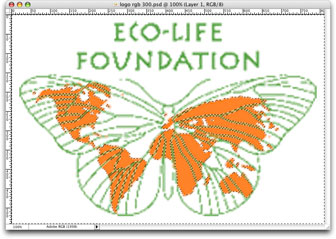 13. Please note that in the Layers Palette, there will be a new layer (Layer 3 in the example graphic below). To view this new layer by itself, simply click the layer visibility icon (the little "eye" icon to the left of the layer thumbnail) on Layer 1 in the Layers Palette to toggle visibility off for this layer for the moment.