Return To Technical Manual Project Index
14. In the "Options" tab, there shouldn't be any differences from the example shown below.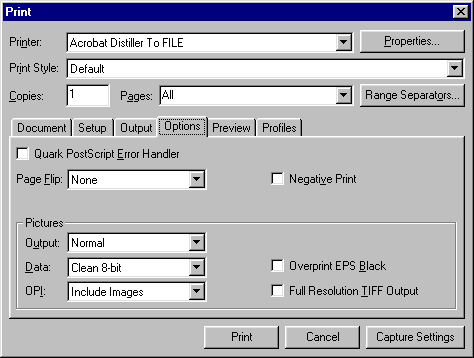 15. There isn't anything to display in the "Preview" tab except that the printable area should go all the way to the edges of the page icon (blue outline).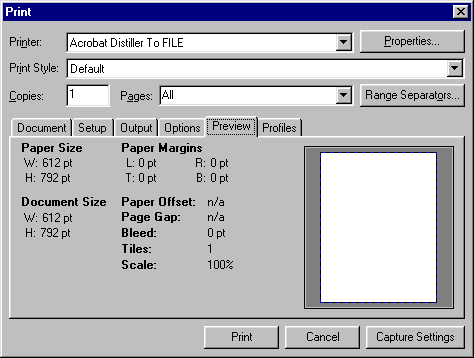 16. In my setup I didn't use any color profiles in the "Printer" tab. Click "Print" when done.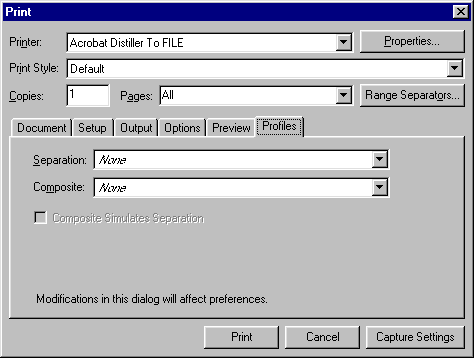 17. At this point it will prompt you for a filename and location for the PostScript® file. Give it a name and click "OK".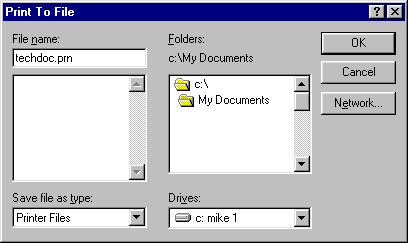 18. Quark™ will display a status window while it is printing the document.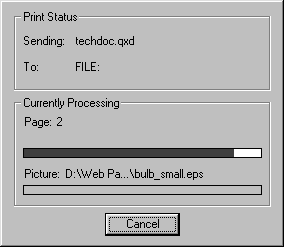 19. At this point you can drag and drop the PRN file onto the Distiller icon. Even if you exited Distiller, the job options that were active when the program was shut down will be in effect when the PDF file is generated.
Download The PDF Made From This Tutorial
Instructions:

1. First download and install the free Adobe Acrobat® Reader

2. If you wish to view the PDF file only, simply click on the link below

3. To download in Windows®: Place mouse pointer on the link, then right click the mouse.

For Internet Explorer®: "Save Target As..."
For Netscape®: "Save Link as..." then save it to disk

4. To download in Mac®: Hold the mouse button down for a second or Control + Click and a pop up window will appear.

For Internet Explorer: "Download Link to Disk"
For Netscape: "Save this Link as..." then save it to disk.

Do The Tech Manual Tutorial Using Canvas™ 6