13. You can name this new gradient if you want by entering its name in the text box. In this example the name is "Gold Shade". It isn't necessary to name the gradient. Save this gradient by dragging it from the preview box into the preset area in the Inks palette (below right).
| | | |
| --- | --- | --- |
| Enter "Gold Shade" in the text box (circled) to give the new gradient a name. | | |
14. If the text isn't still selected, use the Text tool to select it. Then click the Pen icon (circled, below) and click the new gradient ink saved in the previous step. In this case, the default pen width is 1 point.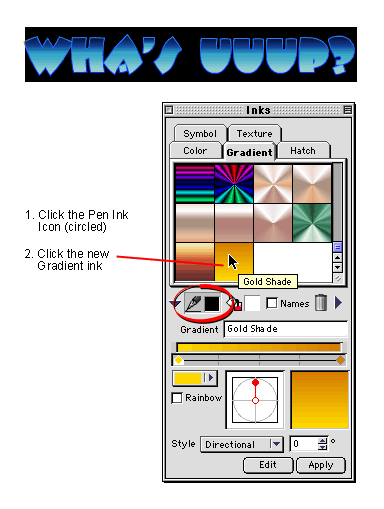 15. We want the pen width to be 6 points. Bring up the Strokes palette and choose the 6 point preset from the "Pen" tab.