Porting Fonts Across Platforms:
Number 15C
Porting PC Type 1 Fonts To The Mac® With Mac Fontographer®
To find out more about Fontographer and where to get it, click here
10. When you generate font files, you will need to specify bitmap sizes for Mac screen fonts. Click Element > Bitmap Info... to access the bitmap information dialog.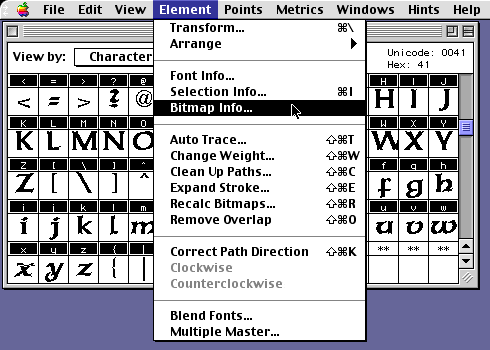 11. The default bitmap sizes for Mac screen fonts are 12 and 24 points. Just click "OK" to accept these defaults.
| | | |
| --- | --- | --- |
| | | Note: The default is two bitmap sizes but only one bitmap size is required for the font to work properly. |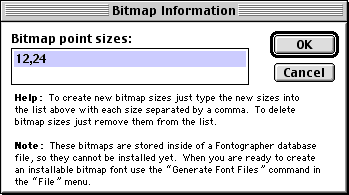 12. Click File > Generate Font Files... to generate the actual font.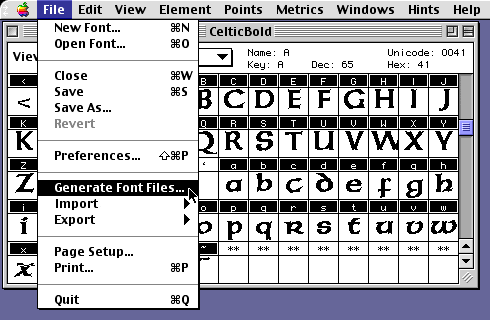 13. For this tutorial select the "Easy" method (circled below). Then choose "Macintosh®" for the computer and "PostScript® Type 1" as the format. Verify your bitmap sizes chosen in a previous step then select a folder to output the font. Click "Generate" when done.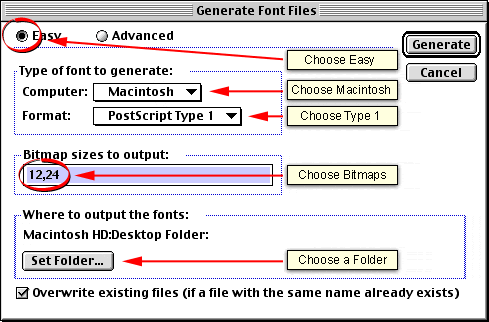 14. Optionally, click File > Save to save the Fontographer database. The converted font files will appear on your drive (below left). You can install them by copying them to the Fonts folder in the Macintosh System folder.
| | |
| --- | --- |
| Mac Type 1 Font | Fontographer database |