Porting Fonts Across Platforms:
Number 16A
Porting Mac® Type 1 Fonts To The PC With Mac Fontographer®
To find out more about Fontographer and where to get it, click here
1. In this case we will convert the Type 1 freeware font, ArtBrush. The font is comprised of two files (more here on why Type 1 fonts require two files). There is a printer font file which contains the outlines and a font suitcase file which contains the bitmap screen fonts and metrics (more here on recognizing fonts and their icons).
2. Drag and drop the .PFB file (the file containing the font outlines) onto the Fontographer icon (or start Fontographer and click File > Open Font..., then select the Celtic.pfb file).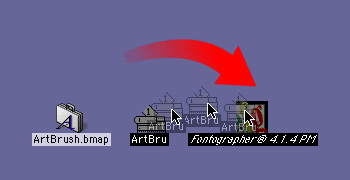 3. You will see a view of the individual characters in the font window.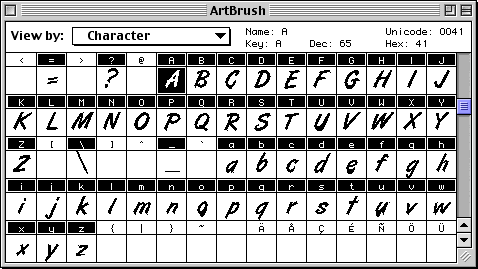 4. When using Fontographer, Type 1 font metrics must be imported manually (more here on why this is important and why you have to take the necessary steps to include the metrics in the conversion). Click File > Import > Metrics.