Return To Technical Manual Project Index
| | |
| --- | --- |
| 30. Select the Content tool and place the cursor in the top (header) text box. Using the Measurements palette, select the font for the page headers. In this case we will use Poppl-Laudatio Regular, Bold Italic, 18 points. Don't worry about leading because there will be only one line of type. | |
| | |
| | | |
| --- | --- | --- |
| | | Note: There is a difference between how the Macintosh® and Windows® versions of QuarkXPress handle bold and italic fonts. In the Mac® version, the bold font or italic font must be installed on the system to be available for Quark™ to use. In the Windows version, however, if the bold or italic font is not installed, Quark will "fake" the bold or italic font. There is no way to tell the difference within QuarkXPress alone. In the Windows version the only way to be sure a bold or italic font is installed is to check the installed fonts with a font manager such as ATM. It is not a good idea to fake the bold or italic font if your document will be sent to a service bureau for output. |

31. Type the words, "Sample Header" in the header text box. This is dummy text for position only. It will appear as a default header on each page and is preformatted for easy editing.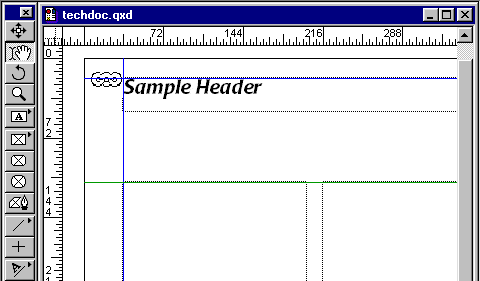 32. With the Content tool still selected, place the cursor in the bottom (footer) text box and click the mouse. The cursor changes into an "I-Beam".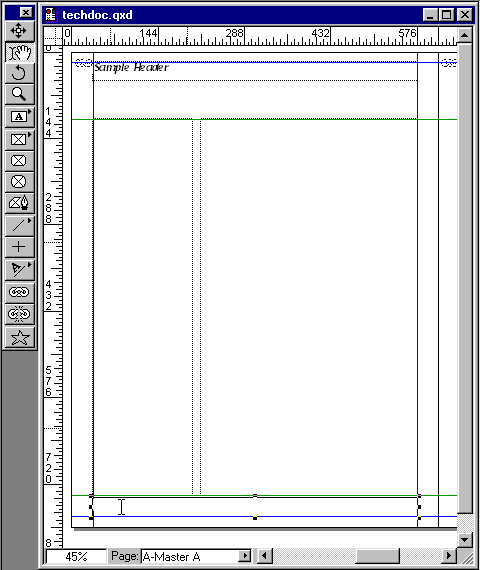 | | |
| --- | --- |
| 33. Using the Measurements palette, select the font for the page footers. Choose Poppl-Laudatio Regular, Italic, 10 points. | |
| | |

34. Type the word "Page" followed by a space, then press Ctrl-3 (Windows) or Cmd-3 (Mac). Quark inserts a page number place holder which appears as <#> on screen. Page numbers will automatically appear in its place on pages based on this master page. Any style formatting of the place holder itself will be applied to the numbers appearing on the pages.