Obtaining New Textures By "Cloning"
This third tutorial on the subject of Photoshop® textures shows how to take advantage of the Texturizer Filter by "cloning" the texture qualities from one image and applying them to another.

1. The image on the left below was scanned into the computer as an RGB image. The scan was made of a common stationery "accordion file" which was selected because of the simulated leather pattern printed on it. When choosing images for textures, pick ones with a broad enough range of grayscale pixel values. This will give your textures depth and dimension.

2. The image on the right below is was created by saving the scanned image as a new Photoshop .PSD file then converting it into a grayscale image with the command:

Image > Mode > Grayscale

It is not necessary that the image be saved in grayscale mode. But since Photoshop only uses the grayscale information in the image, it uses less disk space than a color image. You may want to do this tutorial on your own computer and use this image in your own texture library. If you are using Netscape® or Internet Explorer, simply right click on the grayscale image below and save it to disk. Then open the image in Photoshop and save it as a Photoshop .PSD file.

The new file can be stored in the same folder with other Photoshop texture files (described in a previous texture tutorial). It is this file you will be loading and applying to images with the Texturizer Filter.

| | |
| --- | --- |
| Original Scanned Image: | Grayscale Image of Original Scan: |
3. Once you have saved the texture file as a grayscale Photoshop .PSD file you are ready to apply the texture to an image. Make a new RGB image at 72 pixels per inch. The image below is 256 pixels square. Click the foreground color square in the color palette and set the color values to R=199, G=159 and B=109 (it is one of the colors on the default swatches palette in Photoshop). Next click the bucket tool and flood fill the image with the foreground color.





4. Now comes the real magic. Issue the command:

Filter > Texture > Texturizer > Load Texture

Then load the .PSD file saved in step 2 above. In this example set Scaling=100, Relief=10 and the Light Direction=Top. Click "OK" to close the dialog and apply the texture to the image.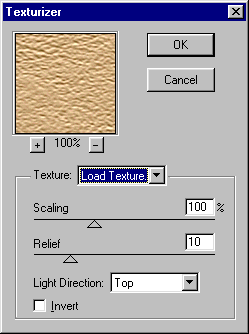 5. The result is a dazzling effect on a mono-colored tile that can now be used as a background or fill. You can apply this texture to any image, not just to background tiles or fills.