Porting Fonts Across Platforms:
Number 1
Porting PC TrueType® Fonts To The Mac® With CrossFont
To find out more about CrossFont and where to get it, click here
Click here for legal note on fictitious font name used in this tutorial
1. Launch CrossFont on the PC and from the drop-down menu select the type of font to convert from (circled below top). In this case we will be converting a PC TrueType font. Then choose whether or no to build a Mac suitcase for the font (more here on Mac suitcases). In this case we will (circled below bottom).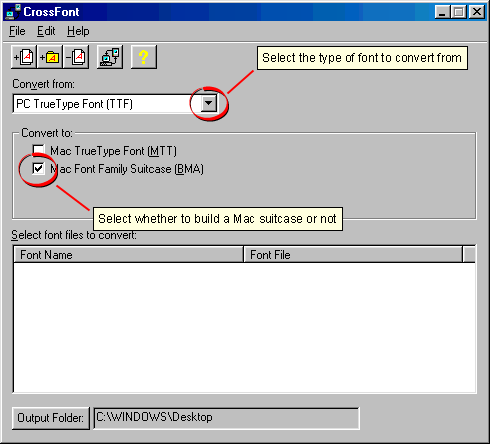 2. In this case we will convert the font, Fifi (Fifirg__.ttf) (more here on identifying PC TrueType fonts). Drag and drop the file into the CrossFont window.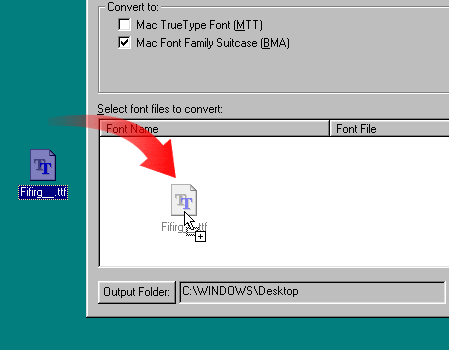 3. Next, select the Fifi font listed in the CrossFont window. Selecting it will highlight it (circled below bottom). Then click the "Convert Selected Files" button on the toolbar (circled below top).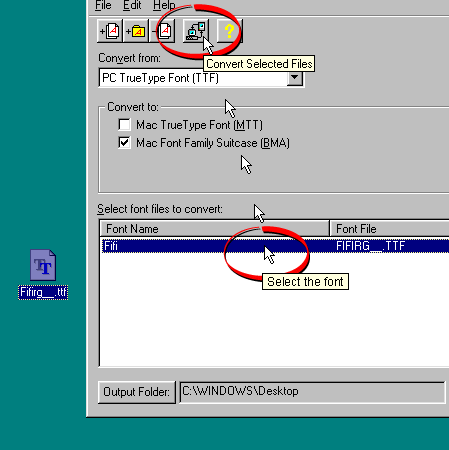 4. You will see a dialog asking you to confirm the name that will appear on the font menu on the Macintosh®. This is one of the important points about font conversion (more here). Click "OK" when done.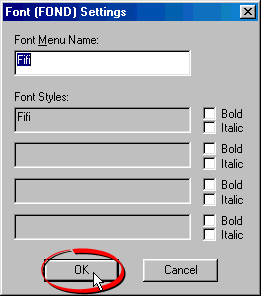 5. CrossFont will create a MacBinary file on the PC's drive (more here on the MacBinary format). In this case it has an .MTT file extension. Copy this file to the Macintosh computer either by using a PC-formatted disk or by sending it over a network (more here on copying files between Mac and PC).

6. Next, you need to decode the MacBinary file on the Macintosh. This step expands the font into the necessary resource fork required by the Mac (more here on the Mac file system). In this case we are using the Aladdin Stuffit Expander™ (freeware...more details found here). Once the file is restored, you can install it by copying it to the Fonts folder in the Macintosh System folder.